Let's Take a Look at Some of the Best Mech Mods
January 3, 2017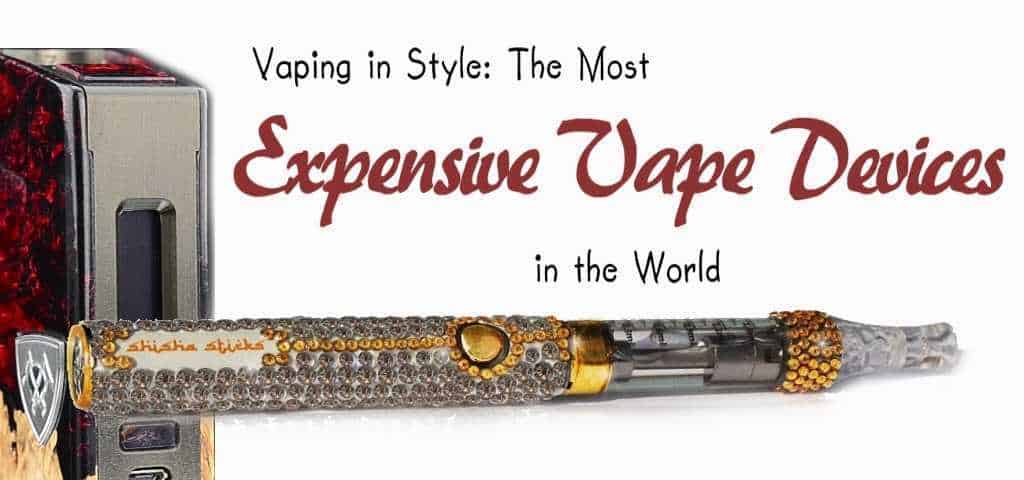 Vaping in Style: The Most Expensive Vape Devices in the World
January 23, 2017

Introducing The Electronic Cigar
If you're one of the millions of people who've spent years enjoying that rare sensation that only a cigar can provide, then you understand the power that cigar tobacco has long held over so many casual smokers. Even devoted health gurus like the great Arnold Schwarzenegger have long appreciated the singular taste and relaxation that cigars can add to a person's life experiences. At the same time, however, most of us have long recognized that there is no such thing as harmless combustible tobacco. Yes, even cigars have posed at least some risk to those who use them.
The end of that extreme risk suddenly came into clear view with the advent of the electronic cigarette. As studies have shown these devices to be as much as 95% safer than traditional tobacco offerings, millions of former smokers have flocked to vaping as a way to enjoy their nicotine without subjecting their lungs to the thousands of toxic chemicals that tobacco manufacturers put into their products. For cigar lovers, that new trend of smokeless nicotine enjoyment has resulted in the creation of the electronic cigar or sometimes referred to as the e-cigar. Those electronic versions of the old reliable tobacco cigar have slowly evolved in the last few years to the point where they now have the same kind of unique allure that cigars have always held for those who use them.

Not What You Expected?
It's certainly understandable that many true cigar aficionados are more than a little reluctant to toy with the thought of switching to the new e-cigars.

This is especially true for those who also smoke burner cigarettes and may have been turned off after trying some electronic cigarettes that failed to match that full-bodied tobacco flavor. I get it. Some people smoke for the taste, and aren't willing to sacrifice that flavor – even if it might save their lives.
Here's the thing though: if you try electronic cigars expecting to match your favorite tobacco cigar flavors, then you will probably be disappointed. There is no contest going on in the industry that has manufacturers trying to blindly imitate every brand of cigars to create carbon copies of tobacco flavors. For all I know, that might be impossible to accomplish at this point. However, it would be a mistake to think that an inability to perfectly match tobacco flavors means that e-cigars have nothing to offer from a taste standpoint.
The reality is that there are a variety of e-cigar flavors, just as there is a wide variety of e-cig flavors. You may not like some, but you're bound to appreciate others. Personally, I've found flavors that are every bit as good as some of the best cigars I've sampled. So, if you're clinging to the tastes you know, then you'll never be able to take advantage of the health benefits that e-cigars can provide.
3 Of The Best E Cigars
1st Place - Most Popular E-Cigar

The Cuvana E-Cigar by Cigavette
The Cuvana E Cigar is one of the most realistic e-cigars on the market when you consider the taste and experience. With a huge battery managing over 1800 puffs and packed with everything you need to start vaping this version is going to be tough one to beat. The price point is great for the quality you receive, you will not only be fooled yourself that your not smoking a real cigar, but fool everyone else around you.
2nd Place - Our Favorite!

The King E-Cigar by Vapor4Life
The King E Cigar is a little more expensive than the Cuvana, which is the only reason it fell into the number 2 spot! Great taste and a great feel making it one to really consider. It's truly one of the best e-cigars that we have tested and we're sure your going to like it.
If you use our 20% off Coupon "TASTIC20" it makes it even more desirable!
3rd Place - One To Consider!

E-Cigar by Apollo
Apollo released their E Cigar sometime ago, but it was a true hit with real vapors, although it has had little tweaking over the last year, it still remains one of the most popular e-cigars on the market. We personally prefer the Vapor4Life and Cigavette version for vapor and flavor, but if you want to try something alittle different then Apollo needs to be considered!
Dynamic Devices
Apart from flavor, e-cigars are just fun. I know that's nothing that most people would ever say about their tobacco cigarettes or cigars, but it's true.

Like e-cigs, e-cigars come in a variety of shapes, sizes, and capabilities – and that makes them exciting and entertaining. Just go to a conference or other venue showcasing these devices, and you'll be surprised to see just how diverse and captivating they can be.
First, let's be clear about one thing. If you're entranced by the sheer elegance of fine cigar packaging – and what aficionado isn't – then you might think that the packaging for an e-cigar would come as a disappointment. Think again. Some of them come in boxes that have been as carefully crafted as the devices themselves – lined with felt, and elegantly decorated with an aged, wood outer appearance. Many e-cigars have gone to great effort to recreate that cigar look, with textured brown shells and intricately detailed wraps that all but indistinguishable from fine cigars.
Of course, you can get a bit more playful than that, opting for cigars or even cigarillos with more stylistic designs and shapes. There are even e-pipes for those who want to be a little more ostentatious about their vaping. You can even choose from disposable e-cigars and rechargeable devices that you can use over and over again. You could say that e-cigars have evolved from being a novelty act in the world of vaping, and have finally started to come into their own.
Performance
The rubber doesn't really hit the road, though, until you've seen how they perform. Having tried a few different e-cigar brands, I'm comfortable recommending just about any of them – at least when it comes to vapor production. While I've used some e-cigarettes that failed to meet my need for vapor clouds, I have yet to see an e-cigar that didn't meet my minimum standards in that regard. Ultimately, though, you'll need to be the judge, since your preferences may differ from mine.
Most of your attention should be directed toward finding the right flavors, though. My recommendation is to hit a local vape bar that allows you to spend a few hours sampling the different offerings in the shop. That can give you a low-cost way to experiment with as many different juices as possible to find the one (or five!) you really prefer. The important thing is to get started with your e-cigar use as soon as possible so that you can begin to enjoy the health benefits and great taste that these remarkable products can offer.